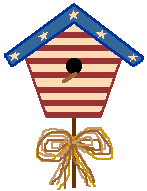 God Bless America
I have found some good links that
I hope you enjoy.


Flag Cake


Barbecue and Charcoal Grill Homepage


Great Fourth of July Page!


Send a Fouth of July card


For the Kids!


Billy Bear's Fourth of July


Liberty Bell Trivia


Mel's Graphics


Thanks to Mel for her great graphics!

Back To My HomePage